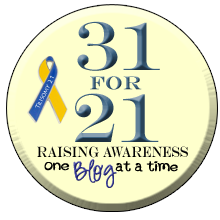 Guess what time of year it is??
It's time to spread awareness for all of those living with Down Syndrome by participating in my annual "31 for 21" challenge. If you are interested in checking out a whole list of people that will be blogging, check out the source of the challenge,
Unringing the Bell
. I will be blogging for the next 31 days (that's a challenge in itself!), some of which will be related to Down Syndrome and some will just be everyday
typical
things in having a 2 year old toddler boy. We have challenges we face BUT he is more like his typical peers than not.
Happy October!!